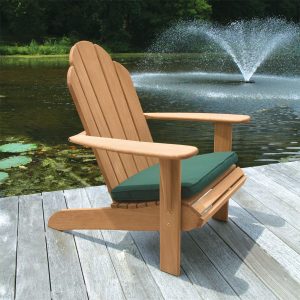 Forever Teak: Looking at the World's Most Enduring Wood
As a collective society we gaze upon the wonders of antiquated civilizations and marvel at their beauty, as ancient engineering and materials that have stood the test of time and retained such clarity. Consider the Pantheon or the Coliseum, concrete formations encompassing the cutting edge of technology and architecture both thousands of years ago and still today. Those handmade ventures are not organic, though, and you might think that nothing made of a once-living material could survive the ravages of time. It would be interesting to note, then, that in certain locations in Western India, including some old temples carved out of cave walls in Salsette, items made from teak have been found in good condition and found to be over 2000 years old! That is all without any added treatments, stains or being petrified, and raises such questions as how, exactly, teak wood is able to boast such longevity.
The answer lies inside the wood itself: teak is rich in resinous oils, rubber and silica, which lends to high resistance and even complete resistance to many of the factors that plague most other tree species such as termites, fungus, and disease. Those oils, called technoquinines, are found in the heartwood of the tree, which is the golden brown interior teak is so well-known for displaying in teak furniture and decorations. The oils are what make the wood so amazing and long lasting, even keeping a healthy glow to the teak decades after it has been cut down. They are highly waterproof, rendering the wood pliable and easy to shape, plus protect it against the majority of environmental damages, making it excellent for marine usage, which will be looked at momentarily. Teak oil also possesses antibacterial properties.
Because teak is so water and humidity resistant it does not expand or warp in weather, neither will it crack or split under the blistering sun. Add to that the sheer, natural beauty of deep color and the genuine rarity of the trees, and the high demand for teak soon becomes understandable. The trees themselves are quite marvelous and reach heights of over 150 feet, crested with broad, rough leaves of extreme durability, leading them to be used as sandpaper by Javanese locals. Formally called Tectona Grandis, teak is actually a deciduous tropical hardwood belonging to the mint family. While plantations have been started to grow teak in areas like Central America and parts of Africa, only India, Pakistan, Thailand, and Burma (Myanmar) own natural teak forests and most enthusiasts (at least those from Burma) agree that Burma grows the best teak available, bar none, while Thailand banned felling the trees since the 1980s. Indonesia (Bali/Java) has transplanted forests, or farms, and is one of the biggest exporters of teak wood. It is generally accepted that plantation trees are not quite as good as naturally bred trees, but little actually sustains this; however, plantation teak is often used for everything but ocean-faring crafts. Lending to the rarity of the wood, the trees only grow sparsely, maybe up to five in a one acre area, and take over 40 years to mature to the point of being good for cutting. Indeed, the older the tree the better and 50+ years in age is highly preferred.
The process of getting a tree to the lumberyard is a bit more complicated than most; the tree must be prepped a year in advance to cutting it down by 'scratching' or girdling it on the underside to allow water to drain from the trunk. Even then, once it is cut it is too heavy to float downstream, so it is bundled and left to dry for three more years. Elephants are often employed to assist in this process, where they are trained to drag the heavy trunk long distances and stack them. Elephants make a much smaller environmental impact than heavy machines and more elaborate equipment. Adding to the expense and low availability of teak, the sapwood of the tree, which is the outer shell or bark, and shows as a grayish color, is thicker than is usually found in trees which leaves less heartwood, the most desirable, resistant part. There are many factors why it costs so much to buy teak furniture, but the product is so utterly superior to any other wood that it is worth the investment.
Not Just Enduring, Also Outstanding
Speaking of utterly superior, there is simply no better wood with which to adorn a boat or build a ship from than teak. Teak has been utilized in ship making for a very long time now, traced back to the Chinese Ming Dynasty and used extensively in Western boats and ships since the Middle Ages. In the 1800s, the Dutch established the oldest teak plantations still in use today; such was the demand for teak. There is no substitute for teak when it comes to sea-worthy vessel usage though some try to finder lower cost replacements. Only teak will not splinter under gunfire, which was of substantial benefit in the 18th century, since a main reason for casualties was shrapnel from splintering wood in naval warfare of the day.
In modern usage, teak is available in the form of parquet flooring, gorgeous indoor and outdoor furniture pieces, plus it graces the decks of many high-end boats and ships, the rubber and silica content of the wood allowing for wet decks to remain non-slippery. It also possesses the unique quality of zero oxidation when in contact with metal and will often out-last metals due to its immense durability. When ships are pulled because they are no longer sea-worthy, quite often the teak decking is still very good, so the wood is reclaimed and finds new purpose as furniture. While teak can be treated, it does not have to be and left untreated it will age to a lovely silvery-gray color, the similar to other weathered woods but with none of the decreased capacity. It will not warp from weather, nor fade, crack, split, lose sheen, or lose value. It is a king among woods and from 2000 years in the past until this very second, it is also the most enduring, sought-after, and highly prized wood in the world.
About the Author:
My name is Malkit Ram and, along with my wife Bimla, I publish Allteakboutique, where we feature and vouch for the extreme quality of Barlow Tyrie Patio Furniture and Kingsley Home Furnishings. Some years ago, we decided to uproot from India and establish the family in Wolverhampton, England, an historical and robust place to live. We are owned by three gorgeous little ladies and one amazing young man whose gaming skills put me to shame. Our fourth and furriest family member is Kano, an American Bulldog who never lets us forget to include him in everything.
As someone who enjoys engineering trains for a living, it is not hard to imagine that my favorite pastime is train spotting. When not doing that, my wife and I can often be found enjoying the vast outdoors even off our own personal grounds, having transformed our backyard into a lustrous sanctuary free from the zip and tumble of city life.