Indonesia, an archipelago nation with a rich cultural heritage, is renowned for its diverse range of products, from spices to textiles. However, one of its most significant exports that has garnered global attention is its furniture, particularly those made from teak wood. Indonesian furniture is not just about the material but also about craftsmanship, design, and sustainability. Among the leading players in this industry is TeakGardenIndonesia, a company that has set benchmarks in quality and design.
TeakGardenIndonesia: A Brief Overview
TeakGardenIndonesia stands as a testament to the excellence of Indonesian furniture manufacturing. Located in Jepara, Central Java, this company specializes in both indoor and garden furniture made from teak. With over fifteen years of experience in teak production, they have mastered the art of producing high-quality furniture that resonates with global tastes.
The company's portfolio is vast, ranging from folding chairs, dining chairs, benches, tables, loungers, umbrellas, and cushions. Whether you're looking for a steamer, a deck chair, a daybed, or a sectional lounge, TeakGardenIndonesia has something for every taste and need.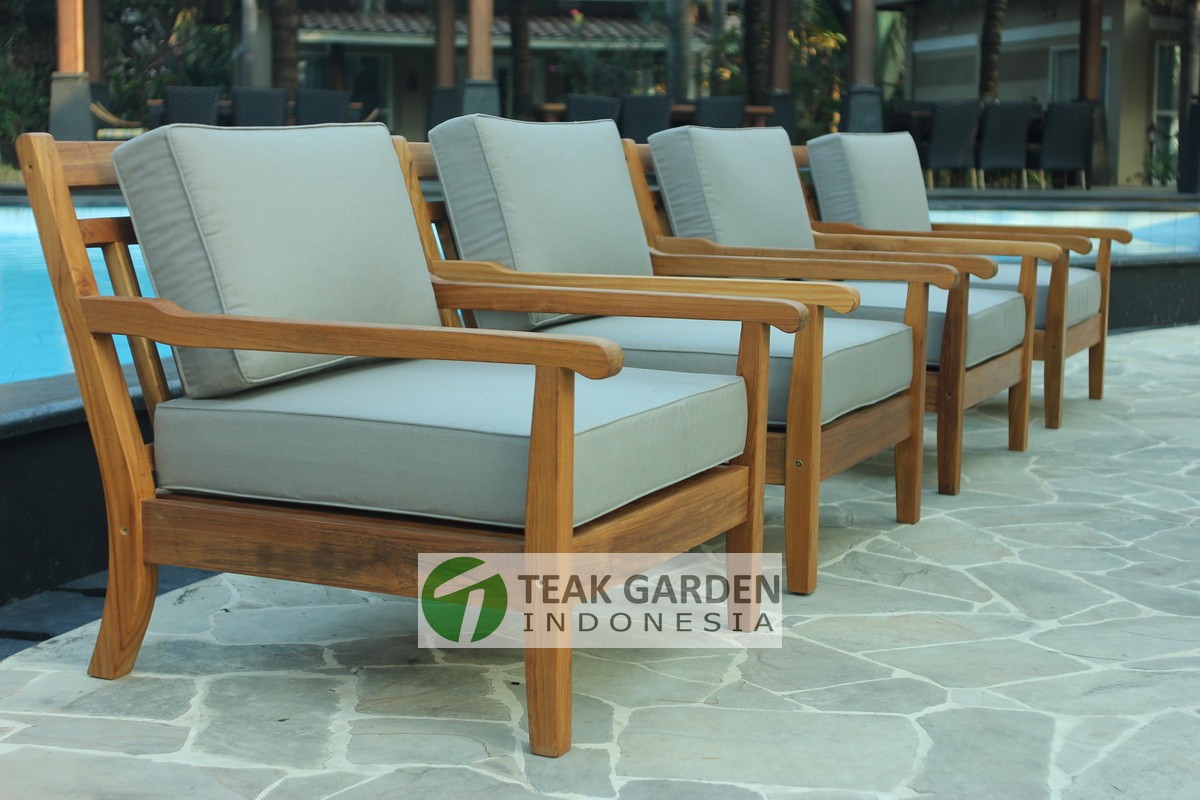 Sustainability at its Core
One of the standout features of TeakGardenIndonesia is its commitment to the environment. All their products are made from teak wood sourced from plantations managed by PT. PERHUTANI, a government entity responsible for teak plantations in Indonesia. This approach ensures that the furniture is eco-friendly and does not contribute to the depletion of natural forests. In an age where sustainability is more than just a buzzword, TeakGardenIndonesia's efforts to be environmentally conscious set it apart from many other manufacturers.
Furthermore, the company boasts the SVLK certificate, a testament to their commitment to environmental standards and a prerequisite for companies exporting from Indonesia.
Global Reach with a Local Touch
TeakGardenIndonesia's furniture graces homes, restaurants, resorts, hotels, and spas across the globe. Their global clientele spans countries like the UK, France, the United States, Canada, Malaysia, Singapore, and many more. Whether it's a retailer in Bulgaria or a hotel project in the United States, TeakGardenIndonesia's furniture finds its place.
The company's success can be attributed to its ability to combine traditional Indonesian craftsmanship with modern designs. Moreover, they offer custom design furniture, allowing clients to get products tailored to their specific tastes and requirements.
Wholesale Bulk Export at Competitive Prices
For businesses looking to source furniture at wholesale prices, TeakGardenIndonesia offers an attractive proposition. Their factory prices combined with the high quality of their products make them a preferred choice for bulk buyers. From ready-to-assemble flat pack furniture to custom designs, the company ensures that all products are kiln-dried for maximum dryness, ensuring top quality for exports.
Conclusion
Indonesia's furniture industry is a blend of tradition, craftsmanship, and modernity. Companies like TeakGardenIndonesia are leading the way, showcasing the best of what Indonesia has to offer to the world. With a focus on quality, design, and sustainability, they are not just furniture manufacturers but ambassadors of Indonesian craftsmanship on the global stage.