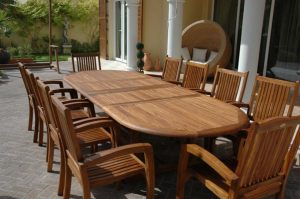 Teak Furniture classify as hardwood furniture. Teak Patio Furniture is an investment many feel is worth making. Teak furniture can remain outdoors in any climate year round, and can be left unfinished or protected. Teak wood can be considered eco-friendly due to its long life expectancies. To ensure the reduction of impact teak furniture has to the environment, many teak plantations are managed for sustainability.
Teak wood suitable for outdoor furniture because has to be exposed to external elements such as weather, moisture, insects, weeds, etc. Other furniture usually gets damaged very easily when left outdoor for prolonged periods of time.
Not like other types of timber, teak has got some unique characteristics. Teak Furniture may it extremely durable. In fact, teak is renowned for it's ease of maintenance and durability. The wood contains high levels of resinous oils, which helps to keep out moisture, insects, and plant growth. You may be surprised to find that teak won't rot even when left in the outdoors.
Teak does not grow in rain forests. It is a deciduous plant that grows in hilly areas. It is mostly found in South East Asia. But the highest quality teak comes from Indonesia. These are not carelessly harvested raw materials. The teak actually comes from specialized tree farms.
If you are looking for high quality teak furniture, be prepared to pay a premium price for the furniture. That is mainly because it takes several decades for teak trees to become mature. To get a better price for the furniture, you may wish to consider buying teak furniture at wholesale prices. The more you buy, the more discount you can ask for.