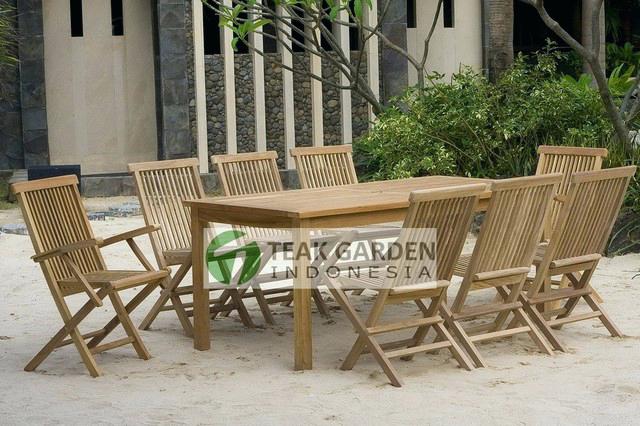 There are many ways to decorate outdoor areas such as patios, lawn, garden, decking, or terraces. Pots of flowers and plantations such as herbs or trees are perfect as outdoor decoration. They are able to create green scenery and natural atmosphere to surrounding. However, the most important decoration in order to enjoy the scenery is having garden furniture at outdoors.
In term of material, garden furniture has many varieties such as teak, plastic, synthetic fiber, or wrought iron. Each of material has its characteristics and benefits for the sake of beauty, comfort and function. One of the most sought by furniture lovers since long time ago is teak garden furniture. Teak becomes furniture winning material as it has many characteristics to be its benefit.
Teak, with its Latin name Tectona Grandis, is tropical hardwood that can found easily in Asian countries such as India, Indonesia and Burma. In Indonesia, teak is grown in legal plantations and villages. Teak grade A and B are planted in legal plantations to preserve the trees and accommodate demand of the lumber. Teak has rich honey brown color and straight grain which become the first point of interest for t furniture lovers. Whereas, the oil content in the wood makes it weather resistance and free from defect. No wonder, because of these characteristics, many people love to decorate their outdoor living spaces with kinds of teak garden furniture.
Teak has been proven for its quality, durability, and strength as it was used as railway sleepers, shipbuilding, beams and columns for houses and bridges material. For its quality, then teak is transformed into furniture to add function and beauty to the rooms. When it is used to furnish outdoors, it blends to surrounding and add the natural atmosphere. Since then, homeowner will love to spend more time to enjoy the fresh air to breathe while sitting on their favorite teak garden furniture.