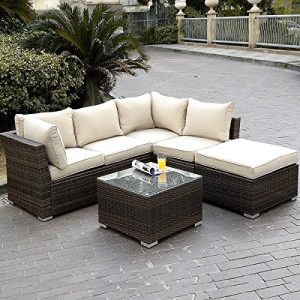 Wicker furniture has increased its popularity as most preferable outdoor furniture for patio, decking, garden or porch areas. Its woven or pattern makes it different compared to other outdoor furniture materials such as wood, plastic or wrought iron. It has classical touch that creates warm and everlasting beauty to every piece although it is in modern design. Wicker is also appropriate to enliven garden for its natural and vivid environment for outdoor living.
Wicker furniture has long history for its usage, as it was found in Egyptian civilization era in 1400 BC. In that era, wicker basket was made to store fishes after fishing time. It has a lengthy journey and proven for its function for daily activities as its practice today.
Some people say that wicker is material name but is not right since wicker means the art of weaving system. To produce wicker, material such as natural or synthetic fiber is woven based on desired design to form a piece of furniture. natural fiber such as rattan, kubu grey, cane, bamboo, water hyacinth and seagrass are  he most common material to produce wicker furnishing while synthetic one is called synthetic rattan.
The process of  natural or synthetic fiber to become wicker is divided into framing as bending process, weaving as weaving fibers to selected pattern which done by hand, and finishing includes deburring (for rattan), sanding to staining.  Every stage in the production process gives importance in order to make quality and durable piece of furniture.
If you would like to place some furniture in your outdoor space in low budget, wicker furniture is the right choice. Wicker gives beauty and natural impression to your garden not to mention easy when it comes to maintenance. Before you start to purchase wicker, you need to know what material should you choose depends on the weather conditions at your living area.